If you have a sweet tooth, you will probably enjoy this rich choc-caramel tart!
This is a decadent dessert to enjoy at Christmas functions, both formal and casual. After a large Christmas lunch, a small slice of this is probably plenty so you'll get a number of serves from this tart.
It is Christmassy most through the colours, but the ginger and macadamia also add a Christmas flavour to my taste buds. I have made it with a chocolate biscuit base, too, which is also delicious but less Christmassy 😊
And while this tart looks quite fancy, it is actually quite easy to make.
Ingredients
Crust
450g gingernut biscuits
1/3 cup macadamias
110g unsalted butter (melted)
4 tablespoons dried cranberries
1 teaspoon cinnamon
Filling
250g dark chocolate
300ml thickened cream
50g unsalted butter
350g tin of caramel filling (or some homemade caramel)
Decoration
200-250g large chocolate balls
red and green smarties
Method
For the base, crush the biscuits and nuts. I like some small pieces for texture, but you can crumb them finely if you prefer.
Mix in the melted butter and cranberries. Put the mixture into your prepared tin (I use a 22 cm round springform pan, but you could use a flan dish or a slice tray). Spread it flat and about 3cm up the sides, then pop it in the fridge.
Break or chop the chocolate and butter into pieces and put them into a microwave safe bowl.
Heat the cream to almost boiling (a few bubbles around the edge means it is hot enough). Pour the hot cream over the chocolate and butter. Whisk together to form a rich chocolate ganache. If the chocolate has not fully melted, place the bowl in the microwave for 10 second bursts until it is melted (watch carefully so you don't burn the chocolate).
Spoon the caramel filling over the biscuit base.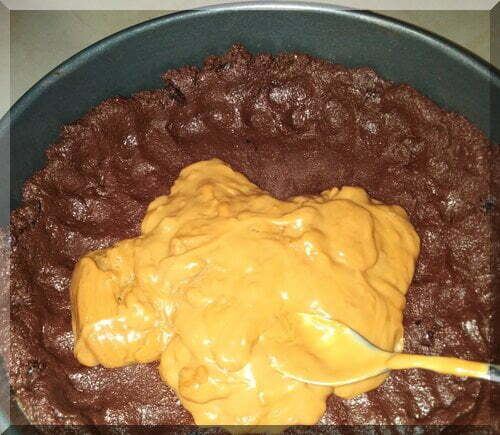 Stir the chocolate mixture again – it is quite runny. Gently pour the chocolate over the caramel. I find It better to slowly pour it as I move the bowl around so it doesn't disrupt the caramel layer.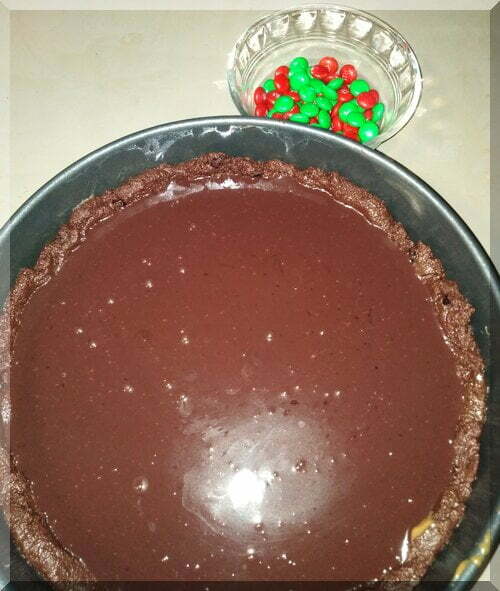 Distribute the red and green chocolate balls across the top. Spread the smarties across as well but note they may not show on the surface depending on the depth of your chocolate ganache! Putting them on their side rather than flat will have more showing above the surface.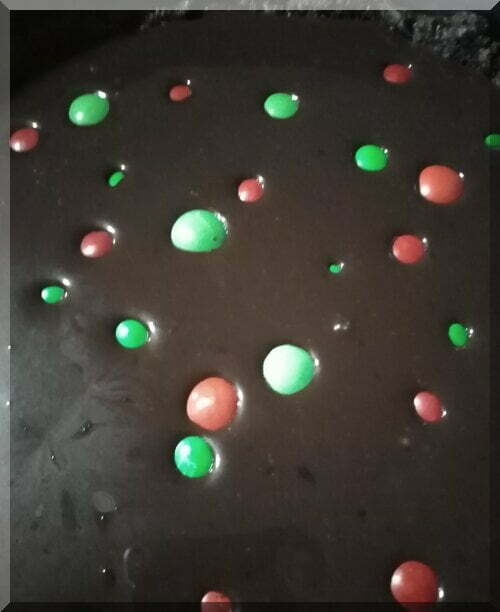 Pop the tart into the fridge for at least 4 hours.
For fun, serve with red or green whipped cream or ice-cream.
Notes
If the tart softens a bit while travelling to a function, you can pop this in the freezer for a while to help it set again.
Covered, the tart will last up to three days in the fridge so you can make it in advance.
You could try this with a milk chocolate, but I think it would be just too sweet. My kids don't like dark chocolate, but they don't even notice it in this tart!