They're back! It's one week to December and that means 7 day quarantine starts today!
Our elves, Tinkles and Ginger, arrived overnight and are isolating in our family room. They brought their own sanitiser, tissues and toilet paper, plus a sleeping bag to stay comfy.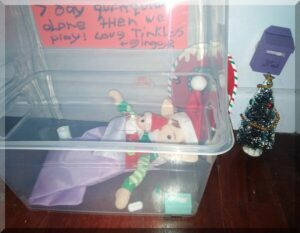 Even though there are no COVID cases in the North Pole and our borders are opening up, Santa and our elves decided a quarantine period was still a good idea. Or maybe Tinkles and Ginger just wanted an excuse to spend another week watching us!
Obviously, quarantine is not an easy word so Tinkles struggled spelling it before giving up and writing they will be alone for 7 days! Here is her note:
Has your elf made an appearance for 2021 yet?