by Andy Lee
illustrated by Heath McKenzie
Lake Press, Hawthorn, 2020
Age group: 5-9 year olds
Format: 32 page soft cover book
My kids love Andy Lee so I couldn't pass up this Yuletide book!
The story
The nameless blue creature in the book is under a spell. Every time you turn a page in the book, the spell makes it look he has done something naughty. And the naughtiness gets worse with each page! The creature wants you to not open the book, nor turn the pages, to protect Christmas.
My review of Yule NOT open this book
Yule NOT open this book continues the series of Do not open this book, Do not open this book ever, and Seriously do NOT open this book. I like the play on words in the title – "you'll not open this book" blended with Christmas by the "Yule" spelling. Not sure how many Aussie kids know the word Yule though! I haven't read any of the other books but as they are picture books I don't think you have to read them in any particular order!
This Yule book will certainly appeal to kids – it is their sort of humour 😉 Let's face it, Andy Lee usually nails it for kids' humour in his books!
Personally, the book just raised questions for me, lol! Spoiler alert – skip this next sentence if you don't want to know the ending! I don't understand how the spell causes all this trouble and then suddenly the creature can overcome it and tidy up.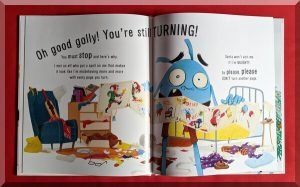 I think kids would also love the concept of naughty things being done without it being "their" fault! And also giggle and perhaps feel a little shock when the creature threatens to tell Santa the reader is being naughty.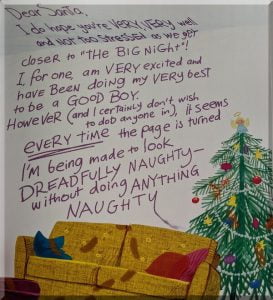 It's a cute approach to Santa's naughty list. The behaviours are ones kids can relate to – not eating their greens, playing with a ball inside, and make a mess. Even when he tried to write a letter to Santa, ended up being written on the wall!
In his letter to Santa, the creature included "hope you're not too stressed". I love that care shown for Santa – and the example of treating Santa well.
McKenzie's illustrations are cute and tell much of the story. The pictures have fun details and show the naughtiness going on, yet they are simple with minimal background distractions.
There are some definite funny parts for adults. For instance, I loved seeing the creature drowning in broccoli and scrubbing out his own mouth with soap!
Would I recommend Yule NOT open this book ? Absolutely! This humourous Christmas book has fun, modern story that will delight kids and adults alike.