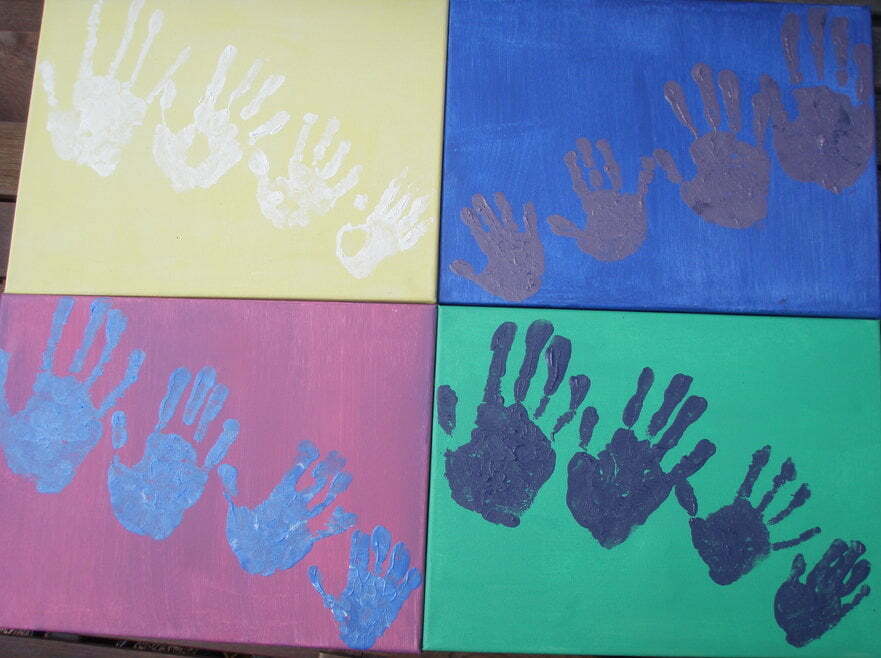 Last Christmas, we made some beautiful artwork as gifts for Grandparents.
I thought of them as an extension of some handprint ideas I've seen before (a single handprint with a poem or a group of children's prints randomly across a farewell card) and was really pleased with how they turned out. It's just taken me a while to edit the photos and write about them!
Making the artwork
We bought some canvasses cheaply, along with some nice quality acrylic paints.
I painted each canvas in a colour suited to the gift recipient (eg yellow for the grandparents with a yellow feature wall in their lounge room and pink for the grandparents with a dusky pink lounge room.)
 Once the canvases were dry, the kids got involved.
Due to the paint and likelihood of mess, I controlled this artwork closely. I went from youngest to eldest as the older children were more patient and better at spreading the paint over their hands. I also held their wrists as we made the prints to minimise smudges and errors.
Again, I chose a paint colour to suit the home of the recipient plus the canvas colour (ie choosing enough contrast to be visually effective).
One by one, I painted a hand of each child and we created a row of handprints. We did a test first, without paint, to decide on a pattern that looked good and included all four prints – you will need to find a pattern to fit the number of people and canvas size.
And that was it!
We wrapped them and the paintings were well received on Christmas Day by three sets of grandparents – and a surprised Daddy who hadn't realised we made four!