by Clement Clarke Moore
illustrated by Lee Krutop
The Five Mile Press, Rowville, 2006
Age group: preschool and beyond
The original wording of the poem in a beautifully presented book.
The story
A man awakes one winter night to strange sounds and discovers St Nick in the lounge room and flying off in his reindeer powered sleigh.
My review
This is just a beautiful book. From the velvet cover to the gorgeous illustrations, this book oozes quality and luxury.
Each page, but one, includes a pop out image which brings the story to life. The other page has a flap to open and see what is inside Santa's sack.
All of the images are suitable to the period – rocking horses, wooden nutcrackers and long dressed dolls as gifts, people sleeping in gowns and sleeping caps, and candles on the Christmas tree.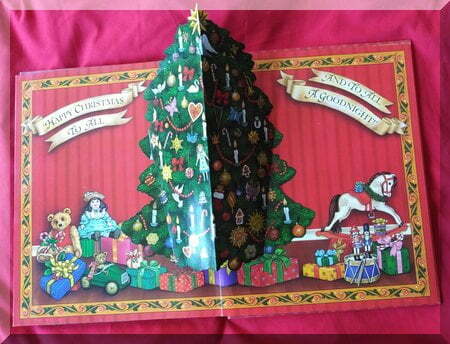 Twas the night before Christmas,
when all through the house,
Not a creature was stirring,
Not even a mouse.
Many of the words of this poem are well known and used frequently in many contexts. So, Happy Christmas to you all, and to all a good night!
And yes, I would definitely recommend this as a gorgeous Christmas book worthy to belong in every home!