Happy Easter!
I spotted this book in a shop recently and noticed the connection to some of the Christmas books I have read and reviewed, like Santa comes to Australia. It also looked cute so I grabbed it and will add it to my book reviews here.
The Easter Bunny comes to Victoria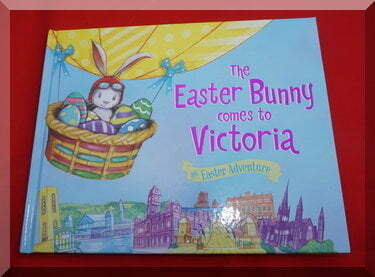 by Lily Jacobs
illustrated by Robert Dunn
Lake Press, South Melbourne, 2016
Obviously, this is a bit of a trend as when I looked it up, this book doesn't just cover the states of Australia and other countries (eg Ireland and Wales), it also covers cities such as Bendigo, Canberra, Newcastle) and areas like the Gold Coast.
Age group: preschool to early primary school
The story
Two Victorian children get a new pet bunny who is actually the Easter bunny for Victoria. The bunny travels the state delivering eggs before returning home with baskets of eggs for his new friends.
My review
Not surprisingly, this is a cute little story with some nice cheery pictures. It includes rhymes so will enthrall young children.
Of course, I have to say it's a pity the story is about a bunny rather than a bilby, especially as the Easter bunny in this book only had to cover Victoria (implying one bunny doesn't do the whole world). True, bringing a bilby home from the pet shop is quite unlikely, but in fiction all is possible!
The rhymes are carefully done so specifics can be changed in each version of the book – for example, "Melbourne and Portland and Ballarat got treats" is easily changed into cities or suburbs in other places. And things like visiting a 'tall building top' can suit anywhere with a different picture – although I can't see "He smashed a quick Easter six" suiting everywhere outside of Australia!
Having said that, as long as you don't get books set in multiple places, that flexibility won't be noticed.
So if you are after a cute little Easter book, this one does tick a lot of boxes and is a nice addition to a seasonable bookshelf.