by Roger Priddy
illustrated by Steven Wood
This book was made by Nicola Friggens, Robyn Newton, Penny Worms and Kylie Hamley
Priddy books, New York, 11 September 2018
Age group: toddler to pre-school
Format: 14 page thick pages
This is exciting – a new release Christmas book that is colourful and fun! I think this should be under many Christmas trees this year!
The story
A quick overview of Santa's activities on Christmas Eve, from leaving his workshop to arriving back home ready for a nap.
The story as such is short and simple but you get to follow along by finding the way for Santa through a finger maze.
My review
This book is a delight! I discovered Roger Priddy's work earlier this year when I reviewed Let's Pretend Christmas and was happy to find this book was going to be released in September (and I may have ordered it on the spot as a pre-release!)
Let's start with the mazes – I like that they are cut outs so that little (and not so little) fingers can trace their way through the maze. Much more fun and easier to use again and again than a maze you draw on. The pattern is not the same on every page so there is challenge to it, even more so if you get distracted and look at the pictures rather than focussing on the maze from above. My favourite is the maze up and down chimneys so the correct path is all over the double page spread.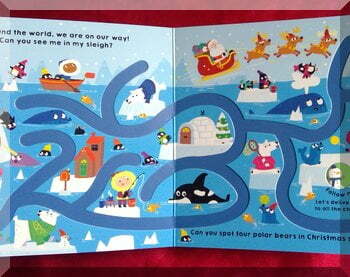 Steven Wood has done some lovely illustrations, too. Each image is cute and colourful, and there are fun details to notice (like the bike covered in Christmas paper and the air traffic controller elf).
As well as the maze, there is a search activity on each page. And I like that it has a little twist on some pages – for instance there are five polar bears but only four are wearing jumpers as listed to find.
Santa does travel the world but is only shown in cold, icy places unfortunately, but it great to see elves male and female, and different skin colours. Maybe one day Priddy can do a second book to include those of us with warm Christmas celebrations!
I also love the details of Mrs Claus having a present for Santa at the end, although it must wait until he has finished his well deserved nap with his teddy!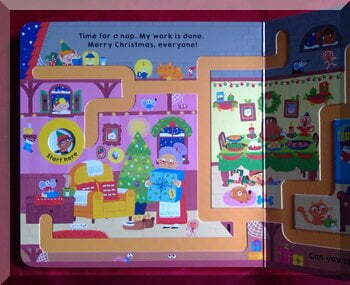 So do I recommend it? Absolutely! It will entertain young children for ages while helping them observe, count and gain fine motor skills. Older children may solve the mazes faster, but can still enjoy the illustrations and feel of the book.