by John Grisham
Dell (Random House), New York, 2001
Age group: mid-teen to adult
Format: 198 page paperback
I know John Grisham as a respected author, covering serious books such as The Firm, The Associate and The Rooster Bar, so I was pleased to see a Christmas book by him – I loved the idea of a Christmas book with some depth to it.
The story
A middle aged couple decide to skip Christmas after their only daughter goes overseas in November.
My review
I started this book with expectations of something to get involved in, although the length said it couldn't get too complex, and pleasure at a serious Christmas read. It is only since starting it that I discovered it was promoted as a comedy – don't get me wrong, comedy is great but it isn't what I was expecting from John Grisham.
And comedy is not what I got – nor was a serious read with depth.
My expectations kept me going through the early part of the book as I had hopes of improvement. Further in, I did get more of an interest in the characters but the plot was still pretty mediocre.
Luther and Nora decided to save money and pass on the usual Christmas traditions – not just avoid decorating their house and not celebrating on Christmas Day, but to avoid all things Christmas including attending work Christmas parties, sending cards or even giving service people their annual tip/gift. It seemed a little drastic to cut out everything (but of course I am biased by my love of Christmas!) but I suppose that is where the humour lies and the social comment on how much Christmas pervades our lives in December.
I felt uncomfortable with some of the reactions to Luther and Nora – it just seemed rude to me that people come to the door expecting them to buy a Christmas cake or tree, and then arguing when the answer was no. To then offer $100 later in the year as compensation also seemed pointless – they weren't saving money that way and seemed to accept the rude expectation on them.
As an Aussie, I found the name of one scout hilarious though – Randy Bogan! Could you imagine going to school or a party and saying 'hi I'm Randy Bogan'?
Luther had my sympathies by the end of the story, and I liked that the neighbours rallied around him and Nora. There was a bit of 'no matter what, when you really need us we'll be there' from the street, which is lovely, but given their earlier attitudes and behaviours it felt a little 'aren't we good' instead of generous – and it was aimed at Blair (the daughter) anyway. This was during the slapstick part of the book where Christmas was no longer being skipped and things were looking a little lonely. In a movie, this part may look funny but it was sad in the book, I thought.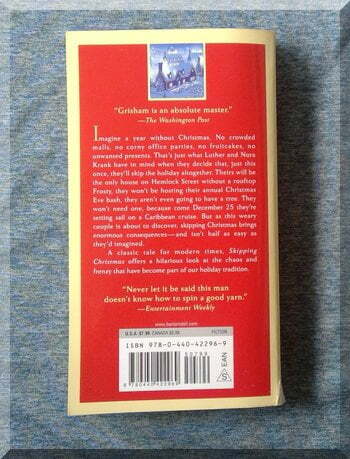 So I guess a few questions arise as I think about this book… shouldn't people be able to celebrate or not as suits them, without fear of ridicule? Is it reasonable for a neighbourhood to band together against one household for no real misdemeanour? Should Christmas carols be used as a weapon to humiliate people's choice of not decorating their front yard?
Good parts to the book – it has a happy ending, it has a few funny moments (like a risqué charity calendar that didn't go to plan), it is well written (no awkward sentences to trip over, no long winded descriptions, assumption you can understand rather than repeating details over and over, good grammar, and so on), and it was easy o read and follow. Oh, and of course, it was definitely about Christmas, even if it wasn't!
Would I recommend it? As a Grisham novel, no. As a cheery Christmas spirit story, no. As a comedy, definitely not. As a light read a bit different to the usual, yes it is an ok story.