by Jessica Julius
Illustrated by Olga T Mosqueda
Paragon Books Ltd, Bath, 2015
Age group:
Format: 32 page picture book
I admit that I love Frozen! It's a lovely movie and showcases non-romantic and genuine love above 'meet a prince and live happily ever after'. Add in strong female characters and a cute snowman, and you have a winner!
So how I could not grab a story about Olaf and Santa?
The story
It's Christmas Eve and not a creature was stirring, not even a mouse, until a clatter wakes Olaf. With no idea what was happening, Olaf looks for the source of the noise. He is astounded by flying Svens and feet coming down the chimney, but eventually discovers Christmas traditions.
My review
The book is written as the original 'Twas the Night Before Christmas poem. That is, the pattern of rhymes and overall story are copied, but there are a few adjustments to suit Olaf. Like the original, this book is done in the first person so it is like Olaf talking to us. And that helps convey Olaf's innocence and inexperience with Christmas traditions.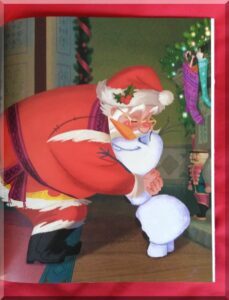 I enjoyed the humour of Anna snoring, Sven smelling and Santa jiggling. Not to mention the irony of a snowman cosy in bed and shivering in cold air!
Olaf introduces himself to Santa and, as always, says he likes warm hugs. "He gave me a hug, such a wonderful gift" is one of my favourite lines in this book – Olaf is sweet and innocent, and appreciates a gift of love.
Mosqueda's illustrations are clear and colourful. Somehow, they fit both Frozen and the Clement Moore story and imagery. The main story is enhanced by the pictures which then delve into greater detail (eg names on the stockings and feathers popping out of Olaf's pillow.
Whilst knowing the Frozen characters helps, this book doesn't require knowledge of Frozen to be enjoyed. There may be a question as to who Kristoff is (he has a stocking and Oaf thinks the sleigh is his at first).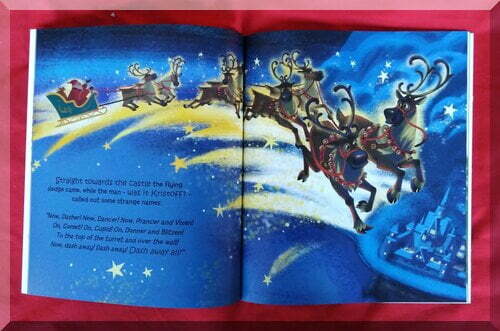 Merry Christmas to all, and to all a good night!
Would I recommend Olaf's night before Christmas? Absolutely! It is fun, colourful and magical. Young children and those who like Frozen will appreciate this on their Christmas bookshelf.