Christmas ransom
Movie length: 84 minutes
Directed by Adele Vuko
Premiered: 1 December, 2022
We saw the ad for this Aussie Christmas movie and thought it could be fun to watch, so we did!
The plot
Set in Harrington and Sons – introduced as the best toy store ever – on Christmas Eve, Christmas Ransom is a comedy with a message of family. Derrick Harrington (Matt Okine) has taken over his father's toy shop, and it's no longer a roaring success, despite trying to do things just the way Dad always did.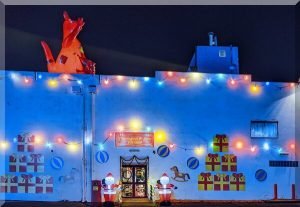 Derrick tells his sales assistant, Pete (Ed Oxenbold) and security guard, Gladys (Miranda Tapsel), to head home. Then we spot two kids, Wombat and Brady, hiding in a ball pit in the store.
A tattooed woman (Genevieve Lemon) scarfs up as harmless old lady with her less-than-bright granddaughter, Sheron or Shez (Bridie Mckim). Taking Derrick and Pete as hostages, they demand a ransom from Darrick's sister, Teressa (Vivienne Awosoga). This leaves Gladys, Brady and Wombat to try rescuing them.
My Christmas movie review
So this is an Australian Christmas movie that seems to be a mix of Home Alone and action movies like Die Hard, and Aussie classics like The Castle and Malcolm.
Apart from the Aussie humour showing through in parts and the fact it is warm (not a flake of snow in sight!), the Australian theme is clearly present. For instance, Santa letters are place in the ouch of a HUGE inflatable kangaroo on the roof and Aussie animals are toys and decorations within the shop.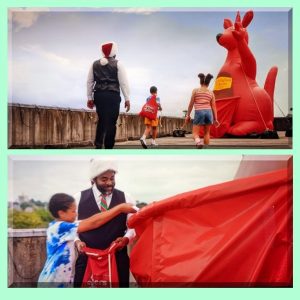 It includes lots of humour, such as Greg-nog (from a fireman trying to win over Gladys the security guard), calling a woman the pregnant terminator, a girl saying 'this is the end' as a train comes toward her head (mind you, it is a toy train!), attacking someone with a pool noodle, and using tinsel and Christmas lights as rope and a squeezy toy as an ineffective gag!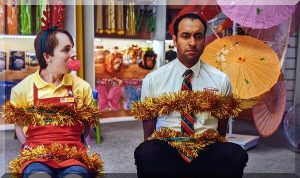 Plus there is some kids' humour, namely a nervous Wombat farts more than once and the smell is apparently terrible! My tweens found that hilarious. Of course, that becomes useful later in the movie.
So overall, the movie has comedy, romance, action, childbirth (guess where in a Christmas movie!) and an Aussie flavour. Parts of it are over the top, some bits are too predictable, and lots of it is fun.
Would I recommend watching this Christmas movie? Yes, this is a fun, family movie. It is Australian and kids will enjoy the toy shop setting. Don't expect a brilliant movie, but you'll get some laughs and the kids will enjoy it.