Wow, we're already up to day eleven of advent calendars – Christmas will be here before we know it!
So, Lego Friends tonight revealed a little box holding a wand, crown and elf's hat (plus a spare wand and spare crown). Miss five is now hoping an elf will turn up on another night, but for now we tried the elf's hat on the snowman!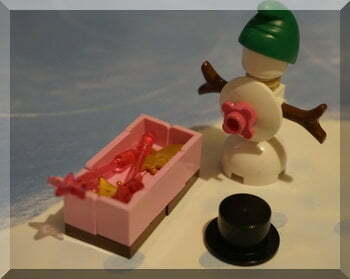 And behind flap 11 in Lego City was a town clock with mistletoe/holly on it – it looks beautiful with the lamppost from a few days ago and yesterday's Christmas tree.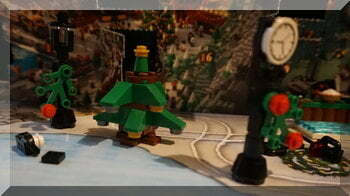 Remember you can read the introduction to our Lego advent reviews or catch up on day 10. And if you're interested in using a Lego advent calendar after reading our reviews, I don't think it's too late – the kids will just have the fun of opening lots in one go, or maybe make it two a day until you catch up. Especially as some places may have reduced the price a lot by now…