So we are about to end the year so this seems like a good time to wrap up the Lego advent calendar review we run across all of December.
Overall, we had fun with both advent calendars and know that we now have more quality Lego in the house (rather than cheap chocolate in tummies or other tokens to deal with).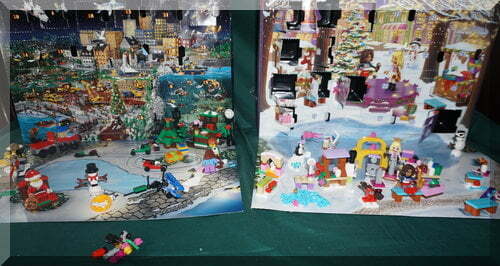 Calendar content
I wrote about the content of the calendars each day, and quite a variety of items were received. You can see images of each day's calendar in the following reviews: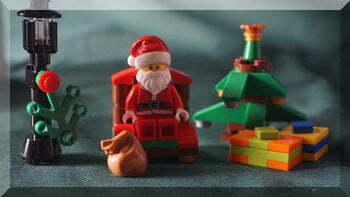 My five year old says her favourite items were Santa's head (city) and "from Friends, the rabbit and Christmas tree the same much".
Her seven year old brother's favourites were Santa and the catapult.
I may be biased but I also loved Santa, especially on his chair beside a Christmas tree.
Overall thoughts
"Great! I liked them because we have to open them up and build for each. And I love chocolate. I like the Christmas tree because it's like our Christmas tree. I love the Lego calendar because you can mix things up and put them in a different order, "says my five year old. Note she was given a chocolate advent calendar so was also doing that each day, thus the chocolate comment!
My son's summary was "It's awesome!!! It was cool to have it as a theme and I like City more than Friends (but I'm not really sure why!)"
So going back to the original questions, I think there is value in these calendars – buying them on special certainly helps as they are not cheap (especially if buying more than one). But given there is real Lego to keep forever, the kids are practising counting and number skills, it is fun, each day involved fine motor skills, and we had a family activity, I think it was worth the money.
I admit I had previously thought of buying Lego in other ways and making my own Lego advent calendar to get greater financial value. That would mean a lot of time and effort on my part, and would not have 24 little self-contained sets so any money saved in the upfront cost would not be worthwhile.
Repeat advent calendars?
The real test of how good the calendars were is whether or not we'd do it again next year…
Personally, I think we will do them again next year (unless the kids completely lose interest in Lego between now and then which is extremely unlikely!)
Mr seven replied with "I would like another one next year, but would be even happier if it was a ninjago calendar!"
Miss five answered "I want to do it again, too, but I'd like it to be a Frozen baby theme calendar."
What do you think – would you have a Lego advent calendar next year based on our reviews or your experience of them?
And importantly, if we use advent calendars in 2016, would you enjoy another set of daily reviews? Or maybe just weekly updates…